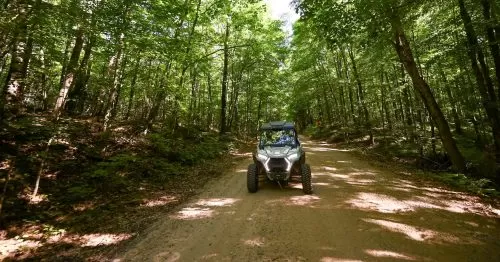 Forest County Public ATV Trail
Forest County
The Forest County Public All Terrain Vehicle (ATV) Trail is entirely on land owned by Forest County and is open for year-round use. The trails are maintained by the Forest County Forestry Department. The Forest County Public ATV Trail is a two-way trail. It is located on old logging roads which are also open to dirt bikes, snowmobiles, hikers, bikers, skiers, and many other recreationists. Please use caution and appropriate speed. Follow brown ATV trail marker signs. This trail is in an area containing many dead-end woods trails that are not on the map, so be aware of your location. Please use discretion in wet weather to avoid erosion and tree damage.
Permit Required: Yes
ATV's: Permitted
UTV's: Permitted
Trail Length: 62 Miles
Elevation: N/A
Contact
Contact Name: Forest County Forestry and Recreation Department
Address: 200 East Madison Street, Crandon, WI 54520
Phone: 715-478-3475
Email: [email protected]
Safety
We encourage you to ride responsibly and follow all local and state rules and regulations found on our Rules & Safety page.
Parking Areas - Forest County Public ATV Trail
Find public parking areas and trail access for Forest County Public ATV Trail .