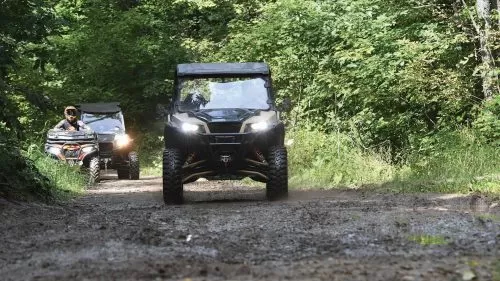 White Lake Trail
Langlade County
White Lake Trail is located in the southeastern part of Langlade County by White Lake. This trail is 20 miles. The trail has rolling and hilly terrain through hardwoods. You can park and access the trail around White Lake in two places, Sherry Road, 1.25 miles north of Highway 64, Polar or in downtown White Lake on Highway M and Maple Street. The downtown location has a restroom available. The White Lake Trail connects with Oconto County ATV trails on Highway 55 just south of Hollister, WI.
Permit Required: Yes
ATV's: Permitted
UTV's: Permitted
Trail Length: 20 Miles
Elevation: N/A
Contact
Contact Name: Langlade County Forestry and Recreation Department
Address: 1633 Neva Road, Antigo, WI 54409
Phone: 715-627-6300
Safety
We encourage you to ride responsibly and follow all local and state rules and regulations found on our Rules & Safety page.
Parking Areas - White Lake Trail
Find public parking areas and trail access for White Lake Trail .