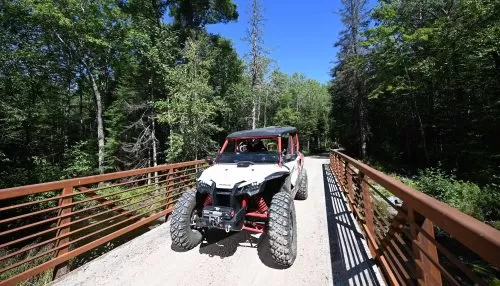 Enterprise ATV Trail
Oneida County
The Enterprise ATV Trail consists of 19 miles of woods trail located entirely on Oneida County Forest. The trail links up with Langlade County trails to the south and Lincoln County trails to the west. The Enterprise campground and a picnic shelter with restrooms & water is located in the central part of the trail system.
Permit Required: Yes
ATV's: Permitted
UTV's: Permitted *Maximum width 65 inches
Trail Length: 10 Miles
Elevation: 1600 to 1750 ft
Contact
Contact Name: Oneida County Forestry
Address: P.O. Box 400, Rhinelander, WI 54501
Phone: 715-369-6140
Safety
We encourage you to ride responsibly and follow all local and state rules and regulations found on our Rules & Safety page.
Parking Areas - Enterprise ATV Trail
Find public parking areas and trail access for Enterprise ATV Trail .