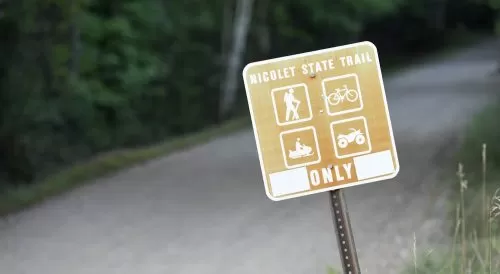 Nicolet State Trail
Forest County
The Nicolet State Trail welcomes ATVs and UTVs. Just remember to respect the bordering landowners and STAY ON THE TRAIL. There are trailheads for parking and loading/unloading in Wabeno, Laona and off County Hwy G in Cavour. Access to the trail is also available at road crossings. When riding, if a road crossing is not a marked ATV route, it is illegal to ride on. ATVs are allowed during winter months but the trail is an active snowmobile trail. If riding an ATV in the winter one must stay on the Nicolet State Trail. Snowmobile trails leading of the corridor are not open to ATVs. The only trail open for ATVs leading off the NST is north of Hwy T in Blackwell.
The Nicolet State Trail is owned by the Wisconsin Department of Natural Resources and managed by the Forest County Forestry & Parks Department.
Permit Required: Yes
ATV's: Permitted
UTV's: Permitted
Trail Length: 32 Miles
Elevation: N/A
Contact
Contact Name: Forest County Forestry and Recreation Department
Address: 200 East Madison Street, Crandon, WI 54520
Phone: 715-478-3475
Email: [email protected]
Safety
We encourage you to ride responsibly and follow all local and state rules and regulations found on our Rules & Safety page.
Parking Areas - Nicolet State Trail
Find public parking areas and trail access for Nicolet State Trail .