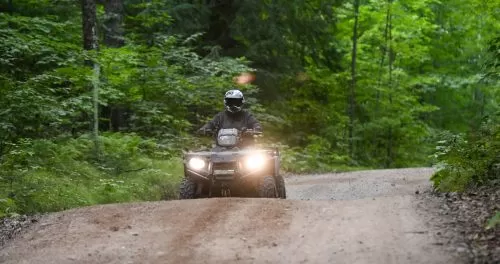 Harrison Hills ATV Trail
Lincoln County
This 47.8 mile long trail system is a two-way trail primarily utilizing existing logging roads that traverse the area of the Lincoln County Forest known as the Harrison Hills. The heavily forested, hilly terrain is dotted with many lakes and bogs that can be seen along the trail. Due to the hilly topography in this area, the trail has many sharp curves and steep segments. These terrain features not only make the Harrison Hills Trail scenic but result in a trail that may be challenging for some riders and certainly not a high speed trail.
Three parking areas provide direct access to the trail system: 3/4 mile north of CTH J on Turtle Lake Road, 1-1/4 miles northwest of STH 17 on CTH B, and 1-1/2 miles south of Harrison on CTH B. The trail system is also connected to Langlade County and Oneida County ATV trail systems.
Permit Required: Yes
ATV's: Permitted
UTV's: Permitted *Maximum width 65 inches
Trail Length: 47.8 Miles
Elevation: 1650 to 1800 ft
Contact
Contact Name: Lincoln County Forestry, Land and Parks Department
Address: 801 N. Sales Street, Suite 106, Merrill, WI 54452
Phone: 715-539-1034
Safety
We encourage you to ride responsibly and follow all local and state rules and regulations found on our Rules & Safety page.
Parking Areas - Harrison Hills ATV Trail
Find public parking areas and trail access for Harrison Hills ATV Trail .